frequently asked questions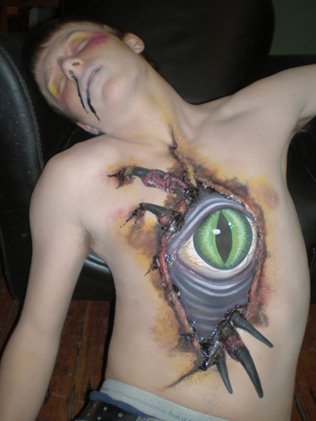 How long does it take?
Body painting can take anywhere from 2-6 hours (or more) depending on how much of the body is painted and how much detail goes into the design.
What paints/products do you use?
I use only FDA compliant theatrical makeup. It is safe for the skin and washes off easily. These are the websites for the makeup companies I get my makeup from:
http://www.kryolan.com
http://www.mehron.com
http://www.wolfefx.com
Do I have to be totally nude?
No. There can be as much or as little skin showing as you want. Some models choose only to have their back painted. Some choose to have a glue-on bra and seamless undies. Others prefer a glue-on thong and pasties. There are those daring individuals that prefer the all-together... but even then, you can't tell they are in the buff once I have them all "painted."
I'm not a size 0... what about me?
No need to be a size 0. Beauty and art comes in all shapes and sizes. However, with strategic placement and design, color, lighting, and angles, we can hide areas you're not crazy about and accentuate the areas you like.
How much will this cost?
Prices can vary greatly depending on the design, nature of the event, model fees, travel expenses, props, etc. If you're in the Sacramento/Carmichael area, we can get together for a free consultation – and latte. If not, give me as many details about the event and what you have in mind for the body painting and I will do my best to meet your needs (and your budget). I am also willing to trade, barter and slash my rates on projects that excite me or will be a nice addition to my portfolio. Just give me a call or email me and we'll take it from there :0)
Is there a consultation fee?
Nope. I'll even buy you a coffee – or chai latte! =) However, I live in Sacramento/Carmichael, CA, so you will need to come to me.
What about photographers' fees?
I work with several photographers in and around Northern California. Their rates vary and are paid separately from my fee.
Do you travel outside of Northern California?
Yes. However, I would charge additionally for travel, hotel, etc.
What age do I need to be for body painting?
18 years or over.
I'm a bit shy. Will there be people around while I am being painted?
Only you, me and (if you choose) your chaperone or friend. Of course, the photographer will see you, too, but only after you are painted. Please see our
models' perspectives
.